What does PALPROT mean? In the root word PALP=to touch, PROT=origin.
"To touch origin?" Yes, touch nature is the way it was at the beginning, and then back to the original way.

In a complicated world, we are easy to get lost, and others say so, forgetting why we set off, and forgetting to ask ourselves what is the meaning. This is our original intention--let people find their original intention.
"Life has no meaning. Each of us has meaning and we bring it to life. It is a waste to be asking the question when you are the answer."

-Joseph Campbell

In a social environment surrounded by humans, we have been accepting various standards since we were young. "How should a boy be?" "How should a girl be?" "What major should I study" "What should I do for a job" "What clothes should I wear" "What should I say" "How should I spend my life in order to be successful" ...Do you even need someone to tell me how to live my life? ! We have so many things added to our bodies that we don't know which ones belong to us. As animals that gain a sense of security in groups, it is too easy for humans to drift with the flow and lose themselves. But there is only one way of life in this world, which is to follow your own heart.
"Man is the only creature who refuses to be what he is."
— Albert Camus

But how easy is that? Schools, companies, communities...We go from one group to another, interacting with all kinds of people, dealing with all kinds of things, and leaving almost no space for ourselves to think about. Henry David Thoreau said in Walden"The mass of men lead lives of quiet desperation."  200 years later, it is still the case.
        "Be yourself; everyone else is already taken."
        —Oscar Wilde
When I climbed the mountain several times, I had a different experience than before. When the trees pass by you, the birds are noisy around, and squirrels are blocking the way from time to time, I begin to break away from the breath of reinforced concrete, and the smell of mud and green grass penetrates into my lungs. At the same time, my heart, my sense of smell seemed to become more sensitive, and my hearing became more acute. When fatigue began to mix with these feelings, there was no sign but it seemed to be the inevitability of long-term accumulation, and I began to examine myself. Look at my life, my relationships, my work, my family, and finally, look at myself. It's difficult, but I know I will find the answer eventually.
"I took a walk in the woods and came out taller than the trees."

—Henry David Thoreau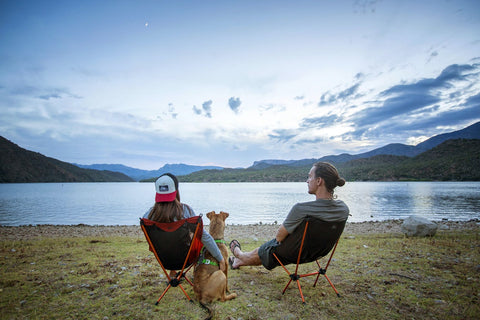 Camp at Burnt Corral Campground on Apache Lake | Photo: Kevin Kaminski

Then, as you can see, I got the answer after struggling many times. What is the meaning of work? In short, it's not money. For me, I want to be able to help others, even if one makes his life more transparent and easier, it is worth doing. What is the meaning of a person's life? Pursue success under social standards? But people die but occupy a two-meter-long piece of land-no matter how great you are, you still belong to the same destination. So the important thing should be this journey. When death comes, looking back on my life, what have I experienced? What is left for this world? This is how the infinite game is played!

I am not a person who likes to instill my own opinions into others, so I choose to create an environment where more people can get answers and give people a shovel. Where does this road lead? Shop by yourself.

PALPROT is this shovel.

What makes me want to laugh in this world is that shovel also has thresholds and prejudices. Prejudice, the insurmountable consciousness of human beings.

When I wanted more people to come into contact with nature and return to nature, I found that most people have this will, but they cannot follow their own will. I mean, first of all, outdoor products are not cheap. Any outdoor sports will either cost you a lot of money or spend a lot of time on learning skills, fishing, climbing, camping, hiking, bird watching...please, we were there thousands of years ago, how short is it? For thousands of years, going home has become the privilege of people with money and time? Even among different races, this ratio is far different.



Lack of diversity: Nearly 75 percent of outdoor participants were white. Participation rates declined 7 percent annually among Asian Americans for the past three years; stagnated for the last three years among Blacks and grew among Hispanics but remained well below whites.
Declining intensity: There were fewer of the most devoted outdoor participants and more casual ones. A decade ago, 24 percent reported participating more than twice a week, while in 2020 just 20 percent did. The same pattern occurred among children, young adults and adults.
Fewer outings: The average number of outings per participant continued a steady, long-term decline, falling from 87 in 2012 to just 71 in 2020.
Stagnant female participation: Although there are significant industry efforts to address gender disparities, for the last eight years females have represented just 46 percent of outdoor participants, even though 51 percent of Americans are female.
--2021-outdoor-participation-report
Heading to the outdoors serves as a way to find peace and relax © Courtesy of Black Girls Hike Buffalo

Well, then I will start by lowering this threshold.
Reducing the price of various outdoor products is not a fundamental solution to the problem. I think the way humans entered nature has gone wrong since these two hundred years, and I will start by changing this way.

Bird Detective is just the beginning.